The Closing Window: Capitalizing On Your One Shot At A Title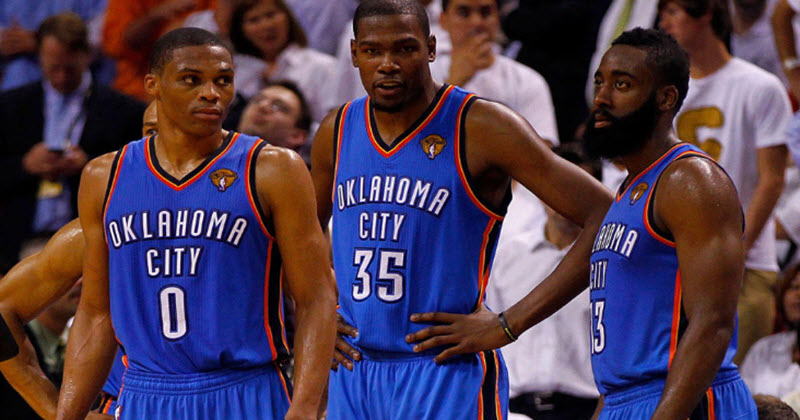 How many times have you heard a fan say "It's OK, we'll be back here again."? When a team makes a deep run at a Championship, more often than not, they fall short. There is only 1 Champion, it's inevitable. So often we assume that team will be back for another shot next year, and maybe several years after that. The reality is, more than likely, they do not get that 2nd shot.
The window to win a Championship can slam shut just as fast as it opened up. This year may be your only year.
There are several ways things can fall apart. In no particular order, here are a few:
Money
As Michael Jordan and his Bulls were rolling through the 1st half of the 90's, Orlando Magic were building a team that looked like it would be the team to roll through the 2nd half of the 90's. Drafting Shaquille O'Neal in 1992, trading for the draft rights to Anfernee "Penny" Hardaway in 1993, and trading for Horace Grant in 1994, the Magic's roster had the perfect mix of youth and experience. And a freakish amount of athleticism. Note – For those of you that only remember Shaq as a lumbering giant, he was at one point the most gifted large human being you've ever seen. Proof here. The Shaq & Penny tandem was looking like it would be one of the most successful little/big duos the NBA had ever seen. After making it to the Playoffs in their 1st season together, they had the best record in the Eastern Conference in 1995, making it all the way to the NBA Finals. They ultimately got swept by the Houston Rockets, but it was clear, this team would be back. Another excellent season in 1996 was ended by Michael Jordan and his 72-win Chicago Bulls. Then it all fell apart. Shaq made it clear he wanted (and deserved) to be the highest paid Center in the NBA. Unfortunately the Magic didn't feel that way. Their initial offer was almost $50 million lower than deals Alonzo Mourning and Juwan Howard had just signed. They continued with low-ball offers, which led to a drawn-out, ugly divorce. He ultimately signed with the L.A. Lakers for 7 years, $121 million. The rest is history. One of the more "what could have been" teams in history. Something to think about…If Nick Anderson doesn't miss those 4 free throws in Game 1 against the Rockets, are we having this conversation?
Age
Expectations were not all that high for the 2001 Seattle Mariners. In the previous 3 winters, they had lost Randy Johnson, Ken Griffey, Jr., & Alex Rodriguez, in that order. They had an aging roster, and not exactly an abundance of young talent. A mediocre 81-81 record seemed to be about right. Nobody, and I mean nobody, expected this Mariners team to rip off 116 wins, tying the single-season MLB record. The catalyst for the team was Ichiro, the 27 year old rookie from Japan. He was a legend in his homeland, but nobody knew how his batting would translate to the MLB. It did. Very well. He hit .350, cruising to the American League MVP Award. Also posting great seasons were aging stars Edgar Martinez, John Olerud, and Jamie Moyer, all well into their 30's. And of course Bret Boone, and his breakout season of .331, 37 HR's, and 141 RBI. Yes, most players have their career year at age 32 (I know what you're thinking). Everything had fallen into place. With over half the starters over 30 years old, and with the 3rd highest average age in the MLB, the time was now. There would more than likely not be a better opportunity at a World Series than this. After their record-breaking season, they beat the Indians in the ALCS, and moved on to meet the Yankees in the ALCS for the 2nd consecutive year. The 3-time defending World Series Champion Yankees quickly disposed of the Mariners in 5 games, ending the dream season. It felt like their short window had closed as suddenly as it opened. And it did. Although most of the core stayed together for a few more years, age quickly caught up. That group of Mariners never made the post-season again.
Smoke & Mirrors
There are times when a team makes a deep Playoff run, perhaps even more than once, even if the team simply isn't that good. The 2009 & 2010 Jets fall into that category. Both of those teams were above average; very good defenses, subpar offenses. Mark Sanchez, errr, Butt Fumble, was at best, a mediocre game manager. Think Trent Dilfer or Brad Johnson, minus the leadership qualities. But in those 2 post-seasons, they caught lightning in a bottle. Their defenses shut down the likes of Philip Rivers, Peyton Manning, & Tom Brady. Both seasons, they rode that defense to the AFC Championship Game. Taking nothing away from either of those teams, as making the AFC Championship Game 2 years in a row is a hell of an accomplishment, but they had their window. Their chance to get to the Super Bowl was in those 2 games. They have yet to make the Playoffs since.
Too Many Mouths To Feed
Remember the early 2010's Oklahoma City Thunder teams? This is the epitome of a "Don't worry, we'll be back here" team. After making a couple Playoff runs in 2010 (losing to eventual Champion Lakers) & 2011 (losing to eventual Champion Mavericks), it seemed inevitable that their window of success would be open for the better part of a decade. Coming into 2011-2012 season, they had the league's best scorer (Kevin Durant, led NBA 3 consecutive years), the one of the more dynamic Point Guards the league has ever seen (Russell Westbrook), and one of the better 6th Men in recent history (James Harden). They also had a solid cast of role players, including Serge Ibaka (3 Blocks per game), Kendrick Perkins (enforcer, NBA Champ), Thabo Sefolosha (defensive whiz), & Derek Fisher (veteran leader, 5 time NBA Champ). They had all the pieces to sustain success, specifically their age (Durant, Westbrook, & Harden were 23, 23, & 22 respectively). They rolled through the Western Conference and met the Miami Heat in the NBA Finals. Although it was a competitive series, Lebron & Co were too much for the young Thunder to handle, and the Heat prevailed in 5 games. Despite the loss, it seemed inevitable that the Thunder were built to contend for years to come. Little did we know then, that was the closest they would get. Even after failing to agree to contract terms and ultimately trading away Harden, they did still manage to make a few deep Playoff runs, but they never made it back to the NBA Finals. 2012 proved to be their only NBA Finals appearance. We are only left to wonder how things would have panned out had Oklahoma City agreed to Harden's max contract request, and kept their core together.
Like I said, the window to win a Championship can be very small, and can close very abruptly. Sustained success can be very difficult to maintain, but every once in a while you have an opening that you may never get again. Whether it be building a team from the ground up, catching a group of players all having career years, getting hot at the right time, or simply getting a little lucky…cash in while you can. And as a fan, enjoy it. It may be your only shot.
Like this article? Share it on Twitter or Facebook. Like us? Follow us on Twitter (@big3sportsblog1) or like our Facebook page (@big3sportsblog). Not a fan? Tell us why!