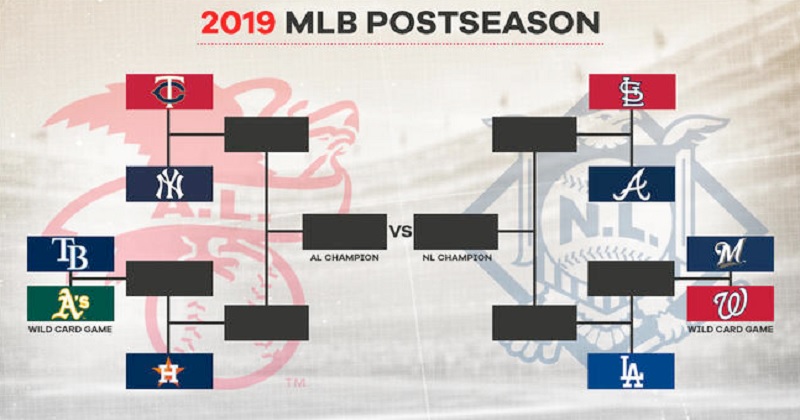 In my opinion, October is the best sports month of the year.  The NFL is in full swing, college football is entering its Conference schedule, the NBA is starting up.  Hell, even the NHL starts.  But what makes this month the best…October Baseball!
  This season more than any in history, you had your have's, and your have not's.  Coming into this season, there have been 105 teams that have won at least 100 games in a season.  Roughly 1 per season (starting in 1892).  Only 7 times have there been 3 teams that won 100+ games.  This year for the first time ever, there were 4.  The Houston Astros, Los Angeles Dodgers, New York Yankees, and Minnesota Twins.
On the other hand, you had your bottom-feeders. The Detroit Tigers, Baltimore Orioles, Miami Marlins, and Kansas City Royals all lost 100+ games. That tied the MLB record set back in 2002. Nice work boys.
For the teams that did make it into the postseason, here is what we have to look for as we enter October.
American League
Houston Astros
On paper, this is the best team in baseball.  And they have been all season.  They are the only team in this postseason that does not appear to have any flaws.  Justin Verlander and Gerrit Cole are combined 40-11 with over 600 Strikeouts, and are 3rd and 4th in ERA.  And Zack Greinke, since coming to the Astros in August, is 8-1 with a 3.02 ERA.  Doesn't that remind you of Verlander in 2017?  Oh, and their bullpen has the 3rd lowest ERA in the MLB.  On the offensive side, they are just as soild.  Highest team Batting Average in the MLB, 3rd in Runs scored, and 3rd in HRs.  Like I said, not a flaw on the team.  Another note, they have one intangible no other team in this postseason does.  This particular team has already experienced a World Series victory.  Tough to see this team getting beat.
New York Yankees
There is one thing we know about the Yankees.  They can hit HRs and they can score Runs.  Lots of them.  They hit 306 HRs this season, 2nd only to Minnesota.  They have a tremendous amount of depth in their lineup as well, with 7 players hitting over 20 HRs.  This does not include Giancarlo Stanton and Didi Gregorius who both missed significant time this season.  Their offense should not be an issue.  But their pitching?  That will be the determining factor on how big of a run they make.  Their 2 best starters this year have been Domingo German and James Paxton.  German was placed on administrative leave (domestic violence) and will miss the Playoffs.  And Paxton has never pitched in the postseason.  Will Paxton, Masahiro Tanaka, J.A. Happ, and Luis Severino (missed most of season, 3 starts in late September) pitch well enough?  We will see.  With the potent offenses in the American League, it will be tough.
Minnesota Twins
Like the Yankees, the Minnesota Twins can hit HRs in bulk.  They absolutely shattered the Major League HR record, by hitting 307 HRs this season.  Previous record was 268, which they broke back on September 2nd.  They have 5 players with over 30 HRs (Nelson Cruz 41, Max Kepler 36, Miguel Sano 34, Eddie Rosario 32, Mitch Garver 31), and another 3 with over 20 HRs (C.J. Cron 24, Jonathan Schoop 23, Jorge Polanco 22).  That's an incredible 8 players with 20+ HRs.  Also carrying that offense is Luis Arraez, who batted .334 (led League, but not enough ABs to qualify).  He injured his ankle on September 28th, and his availability is uncertain.  His return is crucial.  But with that offense, the question will be how well their starting pitching can handle the postseason, a starting staff that does not have single postseason win to their name.  Jake Odorizzi (15-7, 3.51 ERA) and Jose Berrios (14-8, 3.68 ERA) were their best starters this season.  If they can sustain that same level of success, and can get solid performances from their other starters, they could make a deep run.  Setup man Sergio Romo (3.18 ERA since joining Twins, also has 3 World Series rings with Giants) and Taylor Rogers (30 Saves) anchor a solid bullpen.
Oakland A's
Quick, name 1 current A's player.  Times up.  Oh, you didn't get any?  No, Barry Zito is not still there.  In my lifetime, I can't think of a postseason team with less known players.  But known or not, this veteran team (2nd oldest in baseball) can be dangerous.  They have a lot of pop in their lineup, 5th in MLB in HRs, and balanced with 7 players hitting over 20 dingers.  Their pitching is solid as well, with every starter possessing a winning record, and the 4th lowest ERA in the American League.  Their key to winning is getting that same consistency from their starters and getting to the middle innings with a lead.  Their bullpen is experienced, anchored by closer Liam Hendricks and his 1.80 ERA.  Getting early leads is crucial.
Tampa Bay Rays
Remember when I had you name 1 current A's player?  Now, do the same for the Rays.  Can't, can ya?  On paper, I would say this team has the lowest chance of making a run.  They are in the lower half of MLB in terms of Runs scores and HRs.  This is noteworthy, as the other 4 American League postseason teams happen to rank 1, 2, 3, & 4 in HRs.  They do have a solid pitching staff though, with the best team ERA in the American League.  Oddly enough, they only have 2 pitchers with double-digit wins.  Ace Charlie Morton (16-6) and their 5th starter Ryan Yarbrough (11-5).  Their bullpen does boast the best ERA in all of baseball, so they do have that going for them.  I am trying to think of a scenario where this team can make a run, but I am struggling.
National League
Los Angeles Dodgers
Is this the year the Dodgers finally break through and win the World Series.  After losing it in 2017 and 2018, you have to think their window has to be closing soon.  Eventually management will start making changes, that's how it works.  In theory, they have a good look.  Their offense is absolutely loaded, leading the National League in Runs scored and HRs.  Leading the team is MVP candidate Cody Bellinger (.303 Batting Average, 47 HRs, 115 RBI), to go along with Joc Pederson and Max Muncy (combined 71 HRs).  And their pitching staff is just as good, led by Hyun-Jin Ryu (14-5, MLB-leading 2.32 ERA), and Clayton Kershaw (16-5, 3.05 ERA).  Oh, and closer Kenley Jansen.  I see no reason why this team shouldn't be representing the National League in the World Series once again.
Atlanta Braves
The Braves boast an explosive offense (3rd in National League in Runs scored), led by 3 sluggers with 37+ HRs.  Veterans Freddie Freeman (38 HRs) and Josh Donaldson (37 HRs), and youngster and MVP candidate Ronald Acuna (41 HRs).  They are very capable of staying in games via the long ball.  Their success will come down to their pitching though.  Mike Soroka is 3rd in the National League with a  2.60 ERA, and Max Fried has had a great season, with a 17-6 record.  They do have an x-factor though, and that is Dallas Keuchel.  He has been average since joining the Braves in June, with an 8-8 record and 3.75 ERA.  But in the postseason, he has had success.  4-2 record, 3.31 ERA, and a World Series ring.  His presence on that staff could prove crucial this October.
St. Louis Cardinals
The Cardinals are the lowest scoring team in this postseason, ranking 21st in baseball.  While they to have a few players with power (Paul Goldschmidt 33 HRs, Paul DeJong 30 HRs, Marcell Ozuna 29 HRs), they have nobody batting over .285.  They will not be winning many games with their offense. But what they do lack in offensive firepower, they make up in pitching.  They have the 5th lowest ERA in baseball, and do have 2 pitchers that have had postseason success, in Adam Wainwright and Michael Wacha.  If veteran catcher Yadier Molina and their starting pitching can keep them in games early, their bullpen is good enough to close them out.
Washington Nationals
Despite losing Bryce Harper in the off-season, the Nationals offense has not skipped a beat.  Led by Anthony Rendon (34 HRs, 126 RBI) and Juan Soto (34 HRs, 109 RBI), the Nationals ranked 2nd in Runs and 3rd in Batting Average in the National League.  And their starting pitching is even better, with Stephen Strasburg (18-6, 3.32 ERA), Max Scherzer (11-7, 2.92 ERA), and Patrick Corbin (14-7, 3.25 ERA).  Their starters have the 2nd lowest ERA in baseball…but, their relievers have the worst ERA in baseball.  This team does have the pieces to make a deep postseason run, but if anything will stop them, it will be that bullpen.  Something to think about – The 1-2 punch of Stephen Strasburg and Max Scherzer has the same potential of Curt Schilling and Randy Johnson, a la the 2001 Diamondbacks.  It's possible.
Milwaukee Brewers
The Brewers made it to Game 7 of the NLCS last year, and looked capable of making another deep run this year.  Then, MVP candidate Christian Yelich went down with a season ending injury in September.  They rank in the middle of the pack in both Runs Scored and Runs Against, with only a +3 run differential.  +3. Not your typical stat for a Playoff team.  With Yelich in the lineup, I would say this team had a shot.  But without him, could be a quick exit.
Like this article? Share it on Twitter or Facebook. Like us? Follow us on Twitter (@big3sportsblog1) or like our Facebook page (@big3sportsblog). Not a fan? Tell us why!