How Is Pete Rose Still Not Eligible For The Hall Of Fame? But The Cheaters Still Are?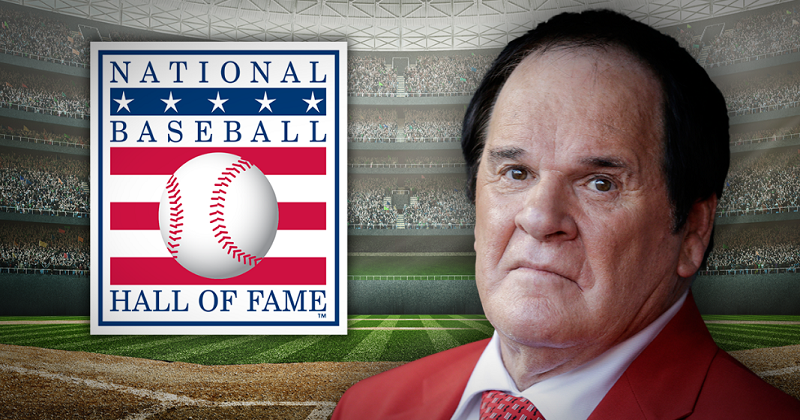 How is Pete Rose not in the Hall of Fame yet? It's been over 30 years, hasn't his punishment been severe enough? And in light of yet another cheating controversy in baseball, the answer to the Pete Rose Hall of Fame question has become clearer than ever.
Pete Rose played in the MLB for 24 years, 19 of which were for the Cincinnati Reds. He also managed the Reds from 1984 to 1989. He is also the all-time hits leader, which you already know.
And he also bet on baseball. These allegations surfaced in 1989, and a formal investigation (The Dowd Report) was launched. Despite overwhelming evidence indicating Rose had gambled on baseball (specifically on Reds games), Rose vehemently denied the allegations.
Even though Rose had never admitted to gambling on baseball, he voluntarily accepted a permanent place on baseball's ineligible list. On August 24th, 1989, Rose was permanently banned from baseball by Commissioner Bart Giamatti (who died 8 days later of a heart attack).
Rose has applied for reinstatement with all 3 Commissioners since 1989 (Fay Vincent, Bud Selig, & Rob Manfred)…unsuccessful each time. Still on the outside looking in.
On a related note, the 2017 World Series and 2018 World Series winners will permanently have a cheating asterisk attached to them. In 2017, the Astros used a camera system to steal signs during both the postseason and the regular season. Astros Manager A.J. Hinch was recently suspended 1 year for his role in the cheating scandal (the Astros fired him the next day). Alex Cora was a bench coach for the Astros that season, and allegedly took the scheme to Boston, where he was the Manager of the 2018 World Series winning Red Sox team. He was fired the day after Hinch was (his suspension is looming).
I happen to think the 1 year suspension of Hinch (and assumingly Cora as well) is fair. It was blatant cheating, no way around it. Worth noting, there have been no reports of any players being suspended for their roles in the scandal.
So, back to Rose. Gambling is a big no-no in baseball. I understand that. But cheating in baseball is a big no-no as well, right? So how is Rose permanently banned, but the ones caught for cheating not? Where is the logic in that?
Oh, and if you want to talk about cheaters…
How many pitchers have been caught doctoring the ball? Joe Niekro, Gaylord Perry, & Whitey Ford (numerous ways), Don Sutton (scuffing), Lew Burdette (spitball), Mike Scott (emery board), Rick Honeycutt (thumb tack), Kevin Gross (sandpaper), just to name a few. Is what Rose did any worse than what they did? No.
How many hitters have been caught using corked bats? Sammy Sosa, Albert Belle, Chris Sabo, Graig Nettles, just to name a few. Is what Rose did any worse than what they did? No.
How many players have admitted to taking performance enhancing drugs? Jose Canseco, Alex Rodriguez, Mark McGwire, Gary Sheffield, Andy Pettitte, Jason Giambi, Ken Caminiti, just to name a few. Is what Rose did any worse than what they did? No.
How many players have been caught taking performance enhancing drugs? Rafael Palmeiro, Manny Ramirez, Edinson Volquez, JC Romero, just to name a few. Is what Rose did any worse than what they did? No.
How many players have been linked to steroids? Barry Bonds, Roger Clemens, Sammy Sosa, David Ortiz, just to name a few. None of them were caught, but it's widely accepted that they used, right? Why aren't they banned? Sure, they aren't in the Hall of Fame, but they are still at least eligible. Speaking of, some of them continue to get closer and closer each year. And once one of the "steroid guys" get into the Hall of Fame, the rest will be right behind them. You mark my words.
My point is, how are all of the guys listed above eligible to be in the Hall of Fame, and Pete Rose is not? Gambling is against the rules, but you know what, cheating is too. The double-standard is appalling.
Full disclosure – I am not a big fan of Pete Rose. I always thought it was awful that he denied gambling for 15 years…then in 2004 (in an effort to make money), he admitted to gambling in his autobiography. That always rubbed me the wrong way. I actually had an opportunity to meet him in Vegas a few years ago, and without thinking twice about it, I declined. I do not think he's a great human being. But that said, he should be a Baseball Hall of Famer. Period.
Like this article? Share it on Twitter or Facebook. Like us? Follow us on Twitter (@big3sportsblog1) or like our Facebook page (@big3sportsblog). Not a fan? Tell us why!