Best Of's – Postseason Pitchers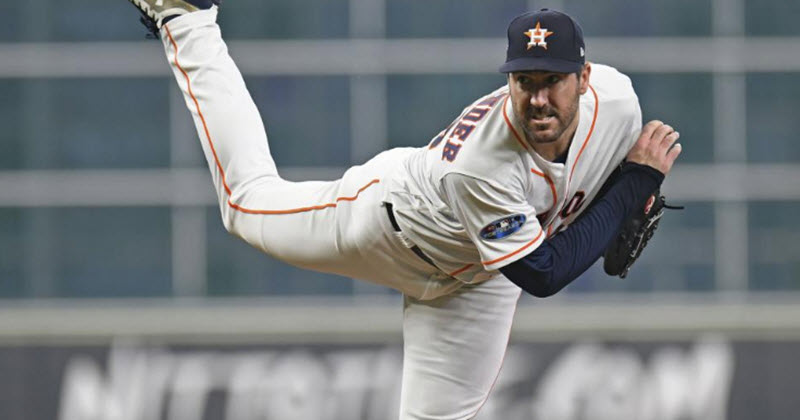 It's Game 7 of the World Series.  You're one win away from a Championship.  So I ask you, who do you want on the mound?  It should be one of these guys.
Honorable Mention – Justin Verlander



Overall, Justin Verlander has been a very good Postseason pitcher, compiling a 13-7 record with a 3.19 ERA.  Very solid.  Only thing keeping him off this list is his World Series performances – 0-4 record, with a 5.67 ERA.  He got Honorable Mention because I think he will have at least one more chance to prove himself, as his Astros are currently the best team in the American League.  He still has a chance to become a Postseason great.
15.  Whitey Ford



While playing for the Yankees in one of their more dominant runs (and that's saying something), Ford pitched in an astounding 11 World Series. And he pitched very well, with a 10-8 record, a 2.71 ERA, 7 Complete Games, and 3 Shutouts.  He has 6 World Series rings, which is a record for Pitchers.
14.  Jack Coombs



Every list has a guy you've never heard of. Meet Jack Coombs.  Coombs pitched in 3 World Series from 1910 to 1916, winning 2 of them with the Philadelphia Athletics in 1910 & 1911.  He started 6 games, had a 5-0 record, with a 2.70 ERA.  Most impressive of these was in 1910, a year in which he led the League in Wins (31), and was 3-0 with 3 Complete Games in the World Series.
13.  Jack Morris



Morris was one of the best big-game pitchers in his generation. While winning 3 World Series with 3 different teams (Tigers, Twins, & Blue Jays), he had a 7-4 record and a 3.80 ERA.  His last Postseason (1992) he did struggle, so take that month away, his numbers were even better.  7-1 record with a 2.59 ERA.  His most memorable performance came in the 1991 World Series, where he pitched a 1-0, 10 inning Shutout in Game 7.  In my opinion, the best pitching performance in baseball history.
12.  Andy Pettitte



Of his 18 seasons in the MLB, Pettitte pitched in the Postseason 14 of those. 13 with the Yankees, and 1 with the Astros.  In those 14 Postseasons, he pitched in an astounding 32 different Series, including 8 World Series (winning 5 of them).  In that time, he amassed a 19-11 record and a 3.81 ERA.  His 19 Wins are a Postseason record.
11.  Herb Pennock



Pennock pitched for the Yankees from 1923-1933, a stretch where they won 4 World Series. Although he was the beneficiary of the best offense ever assembled (Murderers Row), in the Postseason, he didn't really need it.  In the 5 World Series he appeared in (including 1 with Philadelphia in 1914), he was 5-0 with a 1.95 ERA.  And an oddity back in those times, he was used as a starter and a reliever.  In the 10 games he pitched, he started 5 and ended 5, including 3 Saves.
10.  Lefty Gomez



From 1932 to 1939, the Yankees won 5 World Series titles, including 4 in a row from 1936-1939. Not having lost a World Series in that span, they were a perfect 5-0.  And Gomez himself was a perfect 6-0, with a 2.86 ERA.  Perfection.
9.  Jon Lester



Lester has pitched for 2 of the most tortured franchises in sports history. The Red Sox & the Cubs.  And won the World Series with both of them.  He has a career 9-7 Postseason record, with a 2.51 ERA.  And he has been even better in the World Series, with a 4-1 record and a paltry 1.77 ERA.  Fun fact – He's the only pitcher in history to pitch in the Wild Card Game, Divisional Series, Championship Series, and World Series...in BOTH Leagues.
8.  John Smoltz



With the Braves winning 14 consecutive Division Titles from 1991-2005, John Smoltz pitching in October was about as expected as autumn approaching. They did (disappointingly) only win 1 World Series, but Smoltz was not the reason why it was only 1.  He boasted a career 15-4 Postseason record, with a 2.67 ERA.  In the NLDS & NLCS (20 Series combined), he was 13-2.  He is also the record holder for career Strikeouts.  Glavine and Maddux may not have performed as well in the Postseason as they did in the regular season.  But Smoltz did.
7.  Curt Schilling



Schilling had very impressive regular season numbers, but seemed to pitch even better when the pressure was higher. Postseason stats – Divisional Series 4-0 with a 0.93 ERA.  Champion Series 3-1 with a 3.47 ERA.  World Series 4-1 with a 2.06 ERA.  Overall 11-2 with a 2.23 ERA.  These stats include 2 legendary World Series performances.  In 2001, he and Randy Johnson led the Diamondbacks to a World Series title, with Schilling starting 3 games and posting a 1.69 ERA.  3 years later, he and his bloody sock helped lead the Red Sox to their first Championship in 86 years.  How he is not in the Hall of Fame is beyond me.  Actually I do know why…he can't keep his mouth shut.
6.  Babe Ruth



When you think of Babe Ruth, you probably think of one of the best hitters in baseball history. As you should.  Personal opinion, with the possible exception of (like it or not) Barry Bonds, I happen to believe Babe Ruth is the best player in baseball history.  Anyways.  Before he became a slugger, Babe was a hell of a pitcher.  In the 1916 World Series, he started only 1 game, but that game was a 14 inning Complete Game victory.  He followed that up in 1918 with a 2-0 record.  Although he only pitched 3 World Series games in his career, his ERA was 0.87.  Noteworthy, the 1918 World Series was the last one the Red Sox won for another 86 years.  The Curse of the Bambino!
5.  Christy Mathewson



Mathewson pitched in 4 World Series in his career, and had a mediocre 5-5 record. That is noteworthy though, as his ERA was a microscopic 0.97.  Although his team won only 1 of those World Series, his performance in that 1905 World Series was legendary.  3 games started, 3 Wins, 3 Complete Game Shutouts.  An accomplishment never matched since.
4.  Bob Gibson



Although Gibson pitched in only 3 Postseasons, he was absolutely dominant. In each of the 3 World Series he pitched in, he started 3 games, and pitched 27 innings.  That's 9 innings per start!  He has a career 7-2 Postseason record, with 1.89 ERA, including 2 World Series MVP Awards.  In the 1967 World Series, he was 3-0 with a 1.00 ERA.  Best pitched World Series in history.  Note – MLB lowered the mound in 1969, in large part due to Gibson's pitching prowess.
3.  Sandy Koufax



This will probably shock you a little, but Koufax had just a 4-3 Postseason record. But his ERA…0.95.  Take that a step further, he never once gave up more than 2 runs in a game.  The Dodgers won the World Series in 1959, 1963, & 1965, in large part due to Koufax's performances.  He was the MVP in 2 of those Series; in 1963 he was 2-0 with 2 Complete Games, and in 1965 he was 2-1 with 2 Complete Game Shutouts (including one in Game 7) and a 0.38 ERA.
2.  Madison Bumgarner



Do you think his World Series record of 4-0 is impressive? Would you like to know Bumgarner's World Series ERA?  0.25.  Yes, he gives up a quarter of a run every 9 innings.  Although nothing else is needed to back up his spot at #2, I will give you more.  Postseason record of 8-3, with a 2.11 ERA.  In 2 Wild Card Games, a 2-0 record, with 2 Complete Game Shutouts.  In the 2014 Postseason, he pitched 52+ innings, had a 4-1 record, a 1.03 ERA, and also had a 5 inning Save in Game 7 of the World Series.  Arguably the best Postseason by a pitcher in MLB history.
1.  Mariano Rivera



Has there ever been a more feared pitcher in Postseason history? When this guy came into a game, you knew it was over.  Over the span of 17 years, he and the Yankees were in the Postseason 16 times.  And in those years, there was 1 constant.  Mo.  He appeared in 96 games over that run, finishing 78 of them, and gathering 42 Saves.  All records.  And all that while sporting a 0.70 ERA.  Also a record.  Truly dominant.  Only unanimous Hall of Famer in history, largely in part due to his Postseason dominance.
Like this article?  Share it on Twitter or Facebook.  Like us?  Follow us on Twitter (@big3sportsblog1) or like our Facebook page (@big3sportsblog).  Not a fan?  Tell us why!