Best Of's – Most Unceremonious Coaching Exits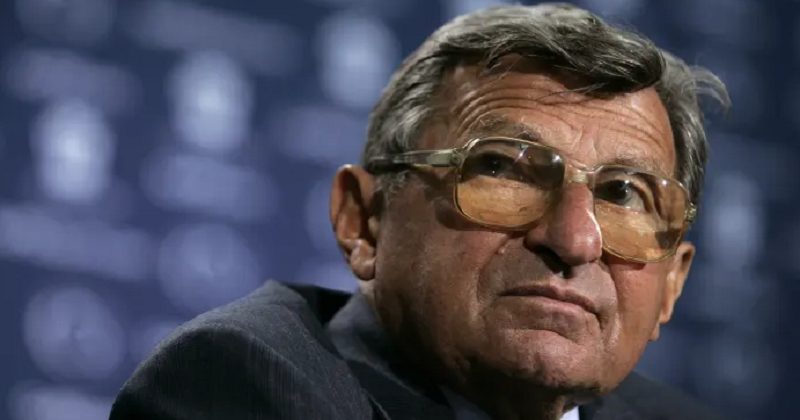 When you think of a coach that has a long, successful run with a team, you expect their exit to be a glorious, walk off into the sunset, right?  That's not always the case though.  Sometimes their departure is outside of their control, and sometimes it's their own damn fault.  Either way, a final victory lap is not always what they receive.
So, here is my top 10.  Well, bottom 10 I guess.  Tell me who I missed!
Tony Dungy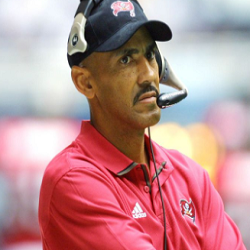 Tony Dungy coached the Tampa Bay Buccaneers from 1996 to 2001.  When he got to Tampa, they had not been to the Playoffs since the 1982 season.  For years, they were one of the doormats of the NFL, but that all changed when Dungy took over.  After missing the Playoffs in 1996, they would not have a losing season the rest of Dungy's tenure in Tampa.  They made the Playoffs 4 of the next 5 seasons, including a trip to the NFC Championship Game in 1999 (losing to the heavily favored St. Louis Rams by a score of 11-6).  But apparently that wasn't enough.  He was fired after the 2001 season.  The franchise had a .306 winning percentage before got there, and a .563 winning percentage with him.  Note – The Jon Gruden-led Buccs won the Super Bowl the next season, mostly with the team that Dungy had built.
Jim Tressel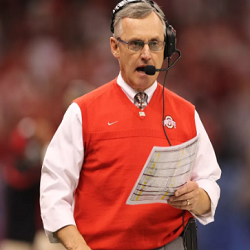 Jim Tressel coached Ohio State Football from 2001 to 2010.  In those 10 years, he amassed a 106-22 record (.828 winning percentage), 1 National Championship, 2 more National Championship Games, and a Top 10 or better ranking to end 8 of his 10 seasons.  A remarkable 10-year run, with no reason to think the next 10 years wouldn't be just as good.  He was arguably bigger than the university…and when it was discovered that he did not follow protocol for a series of recruiting allegations, he may have thought he was.  But he was not bigger than the NCAA, who came down hard on Tressel and Ohio State.  Tressel was suspended 2 games (later increased to 5), and eventually resigned.  An incredible 10 year run, abruptly ended (with a 5 year show cause penalty added as well).
Jerry Sloan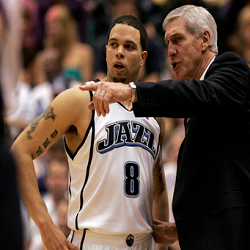 Jerry Sloan coached the Utah Jazz from 1988 to 2011.  In that stretch, he led them to the Playoffs 15 consecutive seasons, including 2 trips to the NBA Finals.  During that timeframe, he also had a winning record 15 straight seasons, one of only 4 coaches in history to ever accomplish that.  After the retirements of Karl Malone and John Stockton, he resurrected the Jazz into a Playoff contender again, leading them to the Playoffs 4 more times.  But in 2011, Sloan suddenly stepped down as coach, with rumors of player conflicts being the reason (specifically Deron Williams).  At the time of his resignation, he was the Head Coach of 77% of the Jazz victories since they moved to Utah in 1979.  The rock of the franchise, suddenly gone.  Note – Deron Williams was traded 2 weeks later.
Jerry Tarkanian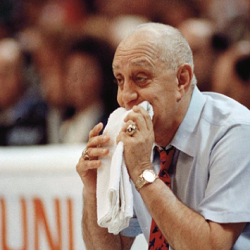 Jerry Tarkanian coached UNLV Basketball from 1973 to 1992.  When he took the reins, they had only been a Division I program for 4 years, with no NCAA Tournament appearances.  In his 19 years as coach, he never had a losing record, and led UNLV to the NCAA Tournament 12 times.  This included 1 National Championship, 4 Final Fours, and a runner-up in 1991 where they came into the Final Four with a 34-0 record.  His Runnin' Rebels were the most exciting team in the country, it seemed almost too good to be true….and it was.  After years of scrutiny for violating NCAA rules, they were finally caught.  After UNLV lost to Duke in the 1991 Final Four, they were banned from postseason play.  Tark coached one more year, leading them to a 26-2 record, and resigned at the end of the season.  A permanent blemish on his resume.
Joe Torre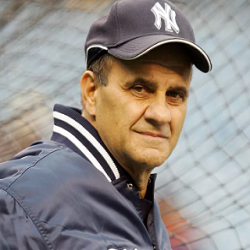 Joe Torre managed the New York Yankees from 1996 to 2007.  Like most successful Yankees coaches, he won a handful of World Series.  4 to be exact (1996, 1998, 1999, & 2000).  Since the last Championship in 2000, he led the Yankees to the World Series two more times (2001 & 2003), and won the Division every year from 1998 to 2006.  In 2007, he made the critical error of not winning the Division (yes, I am being sarcastic), but it happened to be in a contract year.  Despite all their success since Torre took over, the Yankees offered Torre a 1-year contract for the 2008 season.  And not only was it a 1-year contract, it was also a pay cut.  Torre declined the offer.  As he should have.  He deserved better from the team who he helped end their 2-decade World Series drought.
Bobby Bowden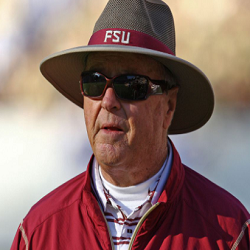 Bobby Bowden coached Florida State Football from 1976 to 2009.  That run included 2 National Championships, 12 ACC Championships, and 21 Bowl wins (11 in a row from 1985-1995).  In 2009, although he was approaching 80 years old, he was still taking FSU to Bowl Games every year (literally every year, since 1982).  He and Joe Paterno were neck and neck in the pursuit to pass Paul "Bear" Bryant to become the all-time Wins leader in college football.  The leadership at FSU had other plans though, as they were eager to let Bowden protégé Jimbo Fisher take the reins.  At the end of the 2009 season, Bowden was given two choices…retire, or come back as head coach in name only…neither of which Bowden wanted to do.  Not allowing him to retire on his own terms, they fired him.
Woody Hayes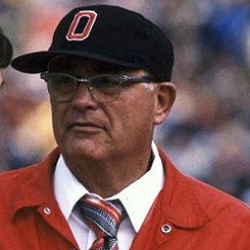 Woody Hayes coached Ohio State Football from 1951 to 1978.  In those 28 years, he led the Buckeyes to 5 National Championships and 13 Big Ten Titles, while amassing a record of 205-61-10.  One of the more impressive quarter-century runs in history.  Despite all his achievements at Ohio State, the end of his tenure was marred by an incident in the 1978 Gator Bowl.  With about 2 minutes left in the game, Clemson nose guard Charlie Bauman intercepted an Ohio State pass and was ran out of bounds, directly in front of coach Hayes…who proceeded to punch him in the throat.  One of the most egregious things a coach had ever done on a field.  He was fired the next day.
Tom Landry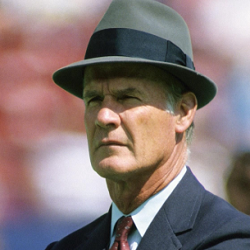 Tom Landry coached the Dallas Cowboys from 1960 to 1988.  That tenure included 18 Playoff appearances, 12 AFC East Titles, 5 Super Bowl appearances, and 2 Super Bowl Championships.  When you thought of the Cowboys, you thought of Tom Landry.  In 1989, Jerry Jones bought the Dallas Cowboys…and fired Landry the next day.  Landry had been the only coach in Cowboys history, but did have 3 consecutive losing seasons at the time.  You could argue his firing was deserved…but Jones did not have a conversation with Landry before the announcement.  Landry deserved better.
Bobby Knight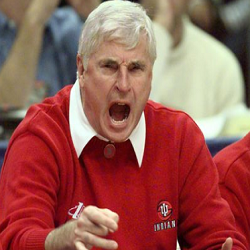 Bobby Knight coached Indiana Basketball from 1971 to 2000.  During that timeframe, he led the Hoosiers to 3 National Championships, including (as of 2020) the last undefeated season in men's basketball.  Despite several run-ins with the administration, the refs, the media, the best motivational speech ever, etc, he was one of the most respected coaches in basketball history.  He was Indiana Basketball.  But in 2000, reports surfaced about him choking a player in practice (Neil Reed), and he was placed on a "zero tolerance policy" by school administration.  Later that year, he violated that policy when he grabbed a student by the arm for saying "Hey Knight, what's up?"  Indiana President Myles Brand asked Knight to resign on September 10, and when Knight refused, Brand relieved him of his coaching duties effective immediately.  29 years as the face of a program…ended with an ugly divorce.
Joe Paterno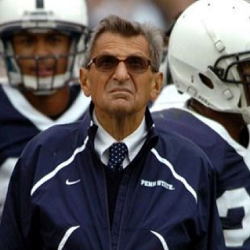 When you think of Joe Paterno, what do you think of?  The winningest Head Coach in college football history?  Didn't think so.  He coached at Penn State for 61 years, 45 of which he was the Head Coach.  He won Coach of the Year countless times and had 409 career wins, most in Division I Football history.  He also led the Nittany Lions to National Championships in both 1982 and 1986.  Never had a Coach been more synonymous with a football program.  JoePa was Penn State Football.  Then…the child abuse sex scandal happened.  Longtime friend and assistant coach Jerry Sandusky was accused and found guilty of 45 counts of child sexual abuse.  This all happened over a 15-year stretch, all under Paterno's watch.  While Paterno himself was not part of the abuse, nor did he face criminal charges in the scandal, he absolutely was, on some level, complicit in the abuse.  He basically did nothing to stop it from continuing.  The Board of Trustees rejected Paterno's proposal to retire after the season, and fired him immediately.  He died less than 3 months later.
Now, tell me what you think!
Like this article?  Share it on Twitter or Facebook.  Like us?  Follow us on Twitter (@big3sportsblog1) or like our Facebook page (@big3sportsblog).  Not a fan?  Tell us why!