Best Of's – Journeyman Quarterbacks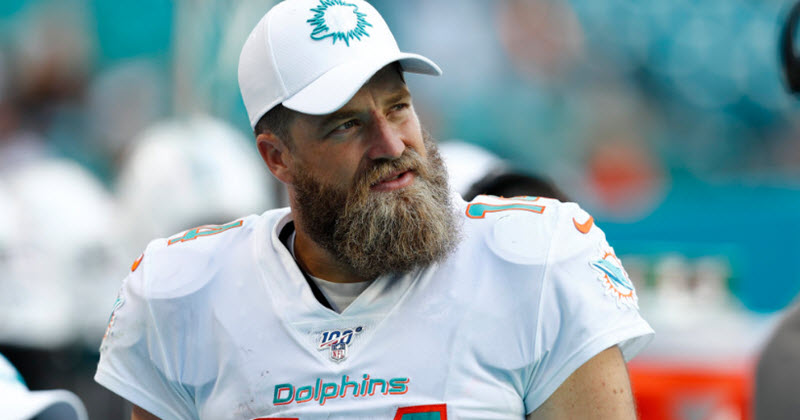 Ryan Fitzpatrick started for the Dolphins this past Sunday. The Dolphins were the 7th team he has started a game for. 7th! That got me thinking, where does he rank among the best journeymen Quarterbacks of all-time? Let's find out, shall we?
Honorable Mentions
None of these guys had all that great of careers. Check that, they all actually had very lackluster careers. But I think they need to be remembered. For whatever reason.
Josh McCown (currently of the Eagles) is on his 11th team (plus 1 stint in the United Football League), over the span of 18 years. While getting several NFL starts, he has just a 23-53 record. Clearly he is doing something right though, as he always has a team! Note – He has made over $51 million in his storied career. Best job ever.
Josh Johnson (currently of the Lions) has spent time with 12 different NFL teams (as well as 1 stint in the United Football League), over the span of 12 years. He did not get his 1st career victory until his 11th season. Talk about perseverance.
J.T. O'Sullivan spent time with 11 different NFL teams (as well as 2 stints in NFL Europe and 1 stint in the Canadian Football League), over the span off 1 years. He has also started 8 NFL games (all in 2008). Your prototypical journeymen, sans the success.

10. Kyle Orton
Orton has 2 "records" on this list. He had the shortest career, and he's the only one with a career winning record. Although he played in only 9 seasons, he managed to play on 5 teams, and was a full-time starter in 5 seasons as well. His 1st 3 seasons in the NFL (with the Bears), he had a 21-12 record, and followed that up with 2 productive years in Denver where he had a 41-21 TD to INT ratio. After spending a couple years as a backup, he led the Bills to a winning record in 2014, their 1st winning season in 10 years. Then, he walked away from the game. Literally, just walked away.
9. Steve DeBerg
DeBerg's career spanned from 1978 to 1998 (he didn't play from 1994-1997), for 6 different teams. His career record was just 53-86, but that is skewed by a few really bad seasons to begin his career (1-10 in 1978 and 2-13 in 1979). Aside from those, it was quite respectable. In his later years, he led the Chiefs to the Playoffs in 1990 and 1991. He ended his career with over 34,000 yards passing and 196 TDs.

8. Jeff George
George is probably the most talented Quarterback on this list, and most definitely the least likeable. Being drafted #1 overall in 1990, expectations were high. He had a tumultuous start to his career in Indianapolis (14-35 record, 41 TDs, 46 INTs), being traded after 4 seasons. But he did end up having a solid career after that, playing for 4 teams his last 8 seasons. As a starter in 4 of those seasons, he put up very nice numbers, even leading his teams to the Playoffs twice (Atlanta in 1995 and Minnesota in 1999). His career 154-113 TD to INT ratio is often times overshadowed by his career 46-78 record.

7. Ryan Fitzpatrick
Has there ever been a more fitting nickname? When you watch FitzMagic play, there are times when you see a top tier Quarterback. But in an instant…it's gone! Last year (2018) would be the perfect example. 1st 3 games – 417, 402, & 411 passing yards, 2-1 record. Next 3 games he played – 126, 194, & 243 passing yards, 0-3 record. Although he has a career record of 50-76 (with just 2 winning seasons), he has put up some very respectable stats, with a career 191-149 TD to INT ratio. And 8 teams in 15 seasons is impressive too!

6. Steve Beuerlein
While playing for 6 teams over a 16 year career, Beuerlein had some very productive years in his mid 30's. Aside from his 1993 season with the Cardinals, he did not become a full-time starter until he was 33 years old. For the Panthers in 1999, he passed for 36 TDs and a league leading 4,436 yards, which earned him a Pro Bowl spot. Although his career record was not great (47-55), he did amass over 24,000 yards and had a 147-122 TD to INT ratio. Also has a Super Bowl ring for his efforts (backing up Troy Aikman in 1992).

5. Chris Chandler
Chandler played for 7 teams during his 17 year career. He started 10+ games in a season for 4 different teams, a total of 9 seasons. As a matter of fact, he started at least 2 games for every team he played on. His best years came in Atlanta, including a 13-1 1998 regular season and a trip the Super Bowl. He was a 2-time Pro Bowler, racking up over 28,000 yards and 170 TDs.

4. Kerry Collins
From a pure statistical standpoint, Collins may be the best Quarterback on the list. He threw for almost 41,000 yards, which is 18th on the all-time list, along with 208 TDs. Collins also played 17 seasons for 6 different teams, starting 11+ games 11 times, and was a 2-time Pro Bowler, with 12 years between the selections (1996 & 2008). He led the Giants to the Super Bowl in 2000, and possibly even more impressive, led the Panthers to the NFC Championship Game in 1996, in just their 2nd year of existence.

3. Vinny Testaverde
What NFL Quarterback list would be complete without Vinny?! He's like the old faithful of list inclusions. 21 seasons, 7 teams, started 12+ games 13 different seasons, a 90-123 record, over 46,000 yards passing, 275 TDs (along with 267 INTs) . The ultimate stat collector. Oh, and 4 winning seasons!! 4. Out of 21. 3 of which came with the Jets between 1998 and 2001. But, when you hold the record for most consecutive seasons throwing a TD pass, and are the oldest Quarterback to ever win a game…you belong on this list. And just because you're Vinny Testaverde, and no list is complete without you.

2. Jeff Garcia
Although he only played for 11 seasons, and "only" 5 teams, I included him on this list because of the last half of his career. In his last 7 seasons, he only played consecutive years with the same team once. In order – 49ers, Browns, Lions, Eagles, Buccs, Buccs, Eagles. He did not enter the NFL until he was 29, and he did have some outstanding years with San Francisco. In 2001-2002, he was 22-10, and from 200-2002, his TD to INT ratio was 84-32. With a career record of 58-58, and a career 161-83 TD to INT ratio, he is one of the more underappreciated Quarterbacks in recent memory. Kind of wonder what his career would have looked like had he entered the NFL younger.


1. Trent Dilfer / Brad Johnson
I grouped these 2 together because their careers are very similar in nature. Both careers spanned the same timeframe, both were well traveled (5 stints each), and both had above average careers. But they are really on this list together for 1 reason…both are Super Bowl winning Quarterbacks. Granted, both were the beneficiaries excellent defenses (2000 Ravens & 2002 Buccs, 2 of the better ever assembled). But nonetheless, both won Super Bowls. An accomplishment none of the rest can say. Note – I wanted to put Nick Foles on this list (specifically with these guys), but he has only played 8 seasons, and started a total of 45 games. Not quite worthy (yet).
Like this article? Share it on Twitter or Facebook. Like us? Follow us on Twitter (@big3sportsblog1) or like our Facebook page (@big3sportsblog). Not a fan? Tell us why!