2020 MLB Preview and Predictions – National League West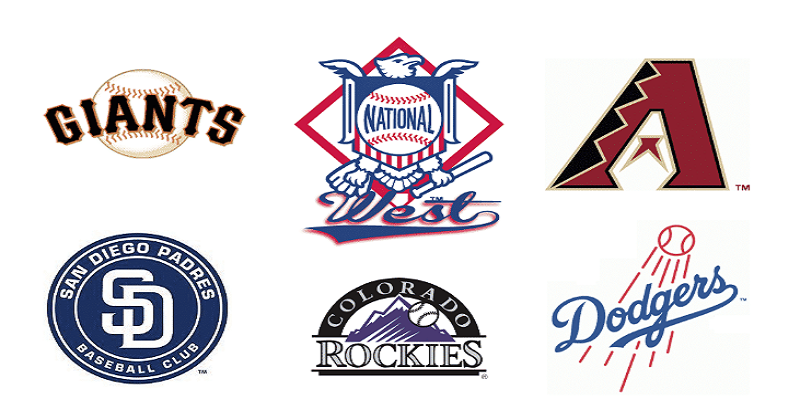 The Dodgers ran away with the Division last season, which they have done the last 7 consecutive seasons.  Is there any reason to think they won't do it again?  Arizona looks like they got better, but the others?  It does not appear to.  So what does this upcoming season look like for each team?  Let's have a look.
San Francisco Giants
The Giants finished in 3rd last season, but had a busy offseason, albeit not a good one.  They did add a couple starting pitchers (Kevin Gausman and Drew Smyly), but lost star reliever Will Smith and postseason hero Madison Bumgarner to free agency.  On offense, they ranked 28th in MLB in runs scored in 2019, and with 75% of their lineup on the wrong side of 30, tough to think they will get better.  As for their pitching staff…same thing.  All 5 projected starters had losing records last season, and 4 of them are 29+ years old.  This may be a rough season in San Francisco.  If they have a slow start, and I think they will, I see a fire sale coming in July.
Colorado Rockies
The 2019 Rockies were like most Rockies teams of the past…top 5 on offense, dead last in pitching.  The lineup will be almost identical in 2020, as a matter of fact, they are the only team in MLB coming back with same lineup.  And that is not a bad thing, with the likes of Nolan Arenado, Charlie Blackmon, and Trevor Story.  These are the Rockies, scoring runs will not be a problem.  Their pitching will be.  Like their lineup, they also have the same starters coming back for 2020, which isn't necessarily a good thing.  Their staff had the worst ERA in baseball last season, by a long shot.  It is a very young staff, so improvement is possible.  But can they improve that much?  We will see.
San Diego Padres
The Padres finished in last place last season, but are coming back with a revamped team in 2020.  They have 5 new starters on offense, which will help bolster an already solid offense that features Manny Machado, Wil Myers, Eric Hosmer, and young star Fernando Tatis, Jr.  They should not have trouble scoring runs.  Where they may struggle however, is preventing other teams from scoring.  Their projected 5 starters were a combined 2 games over .500 last season, and despite playing in a very pitcher-friendly ballpark, finished 12th in the NL in ERA last season.  Like the Rockies, their staff is very young, so it's still possible they can get better.  If they don't though, they might be in the hunt for last (which in this Division, will be a 3-team race).
Arizona Diamondbacks
The Diamondbacks had a surprise season in 2019, finishing 8 games over .500 and just 4 games out of the Wild Card spot.  They were one of the busier teams this past offseason, and may be one of the more improved teams coming into 2020.  They signed Kole Calhoun and traded for Starling Marte, which will add 56 HRs to their outfield.  Their starting lineup will include 7 players who hit 19+ HRs last season, 4 of which hit 29+.  This will be a potent lineup.  But the biggest addition was star pitcher Madison Bumgarner, who will bolster a relatively young pitching staff.  If Bumgarner is still the ace he has been in the past, and they get even a little improvement from their other starters, this team has a legitimate shot at a Wild Card berth.  National League Wild Card participant
Los Angeles Dodgers
The Dodgers have won the NL West 7 consecutive years, yet have 0 World Series Titles to show for it.  Will this be the year?  They did make the biggest trade this offseason, acquiring MVP Mookie Betts from Boston.  He will be injected into a lineup that already includes MVP Cody Bellinger (47 HRs), Joc Pederson (36 HRs), Max Muncy (35 HRs), and Justin Turner (27 HRs).  They will again be the most potent lineup in the NL.  Their pitching staff, which has been one of the best the last several years, will look quite different in 2020.  They lost ERA leader Hyun-Jin Ryu, Kenta Maeda, and Rich Hill, but were able to add David Price (in the Betts trade) and Alex Wood.  With Clayton Kershaw and Walker Buehler already in the rotation, I see them remaining one of the best in the NL.  Overall, this is the best team in the League, possibly in all of MLB.
This looks to be one of the more unbalanced Divisions in baseball this upcoming year.  The Dodgers are still the best, and the Diamondbacks appear to have gotten better.  But the other 3, not so much.  As a matter of fact, the Giants, Rockies, and Padres may be 3 of the worst teams in the NL in 2020.  Either way, the winner looks clear…like it has the last half decade.  National League West Prediction – Los Angeles Dodgers
Now, tell me what you think!!!
Like this article?  Share it on Twitter or Facebook.  Like us?  Follow us on Twitter (@big3sportsblog1) or like our Facebook page (@big3sportsblog).  Not a fan?  Tell us why!